Can't leave your house? No problem: 13 Simple Exercises Runners can do at Home
We are all stuck at home, what now?
All gatherings and races are now either cancelled, limited or postponed. A lot of us are already in full lock down. So what do we do now to maintain our fitness if we can't go outside to run?
The inspirations we need!
Let's get inspired by Elisha Nochomovit, this gentlemen who ran the length of a marathon on his balcony in support of the medical staff dealing with the current Corona Virus pandemic in France:
I had to try his crazy fun idea:
Or if that isn't quite your cup of tea, this Gentlemen has found a way to run at home with his homemade soap treadmill:
13 Exercises for Runners to do at home
In support of everyone who is stuck home, I've decided to do my work out on my balcony. I've gathered 13 exercises for runners and people who simply want to keep in shape at home during this crisis!
I wanted to keep this content nice and light, so I had a lot of fun going through all the exercises myself! If I can do them, you certainly can too!
Having a work out companion is always nice, so as you can see Nala and Gizmo, our cats, were keeping me company!
High Knees
30 seconds
Mountain Climbers
30 seconds or 30 repetitions
Jump Squats
30 repetitions
Lunges
30 for each leg
Arm vertical push in
10 repetitions
Arm Rotations
10 repetitions
Simple Curl ups
15 for each arm
Arm Raises
10 repetitions
Side-way Leg raise (w/ Bands)
15 for each leg
Backwards Leg raise (w/ Bands)
15 for each leg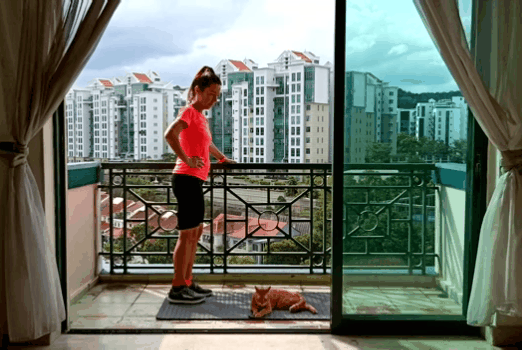 Sit ups
30 repetitions
Plank
30 seconds
Plank Twists
15 repetition
Let's enjoy ourselves and make most out of the unfortunate circumstances.
I hope you gained value from this week's slightly different then usual content.
What is your personal home work out routine? What would you do differently? Let me know, comment and contact me directly on social media: @veroniquerun or Veronique Run
For more content, make sure to Subscribe to our Weekly Performance Tips Newsletter where every week I send you Custom content that will help you boost your Running and Personal performance.
#runner #Performancecoaching #performancecoaching #ultrarunner #ultra #veroniquebourbeau #UltraMarathon #Running #workout #Performance #veroniquerun